Celebrate Christmas The Traveller's Way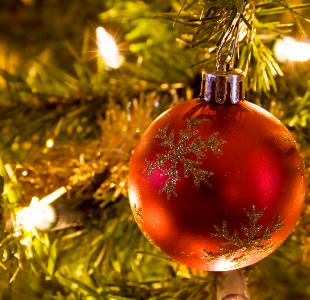 Every Christmas is unique in its own way. If you page through your photo albums from years gone by, it's always interesting to remember the sub-context of the holiday; where you were, who you were with and what you were doing. Those are the details that stand out more than anything else. The periphery stuff – presents, decorations and food – never lasts. For this month's Christmas Holiday Feature, we're looking at celebrating Christmas in different ways that relate to travel, focusing on destinations and companions – the magical ingredients for a meaningful holiday. We've got some amazing places lined up, from Hawaii to Morocco, Antarctica to Las Vegas, and several stunning local options. But ultimately, whether you're planning to spend this year's Christmas break with your family, friends or alone, it's all about making memories you can look back on fondly.
Family
It takes all sorts of weird and interesting families to make the world go round, especially when it comes to celebrating the Christmas holidays. Everybody has their own way of making the occasion special - some people need activities and action, while others can happily settle for a good book and long nights around the scrabble board. Whatever you end up doing, the thing that makes travelling a good family-bonding experience is that it's not about giving or receiving anything; it's about sharing something. This month, when mapping out suggestions for families, we've tried to make the list as accommodating as possible, including something that all types of families can work with.
For Warm Weather
Zanzibar
We mentioned Zanzibar last month, after listing Tanzania as one of the best ecotourism destinations around. It's the gateway to Africa's most lively and interesting island, just a two hour ferry ride or a short flight away from the mainland. Christmas time brings long, warm, perfect summer days that are ideal for spending time on the beach and kicking back on a hammock in the shade. As far as family destinations go, it's an island getaway that has an interesting edge; it's equal parts island paradise and exotic cultural destination. Despite Zanzibar's affiliations with one of Africa's most recognisable nations, the island maintains an individual identity, harbouring its own ghosts from a long and tough history. The stone houses, mosques and churches offer clues of its position on the trade route between the East and West, which has now evolved into a rare, hybridised local culture.
The island's premier eco-resort, the Zanzi Resort (www.zanziresort.com), offer great packages over the festive season. Something that really impressed me was how the resort focuses its sustainable tourism efforts in two main areas – ensuring that it manages waste and electricity efficiently, and using local artists and craftsmen to build and decorate the premises. You'll find that all the rooms are elegantly decorated by local artwork and decorative furniture. Their range of activities include all the favourites, from snorkelling to swimming with dolphins.
Seeking Something Cooler?
Antarctica
The white desert of Antarctica is a geological mystery; it's the coldest, highest and most hostile place on earth, and despite the five million square miles of ice there, it's also the driest. This is definitely the kind of holiday only suited to families with some travel experience and a higher aptitude for adventure, but one that the people who fit this description will love. It's a journey into the last discovered continent on Earth; a strange and interesting place that has no permanent residents, only a revolving population of scientists and holiday makers who are there to observe its curious moods. Spending Christmas in this once-unseen destination puts you there at the most wonderful time of the year. Clear, sunny days offer views of the frozen hillsides, glaciers and icebergs that rise up from the calm water. Whale sightings happen regularly, giving visitors a rare look into the secret lives of these mammals living in their own free world.
Expeditiontrips.com offer a nine day adventure trip aboard the Akademik Vavilov, a 92 foot research vessel that is kitted out with all the trimmings for a comfortable, action-packed holiday. Your trip consists of kayaking, walks, zodiac excursions and camping, all mixed in with plenty of sightseeing. The vessel also has ice-strengthened hulls and stabilisers, making it safe and reliable for travelling in the polar regions. Inside, there is a stylish dining room and bar, where passengers eat and socialise – when not relaxing on the deck or heated plunge pool. Compared to the scientists who live there for months at a time while conducting research, you and the family will feel like you're staying in a luxury villa.
Have A Good Ol' Traditional Christmas
Poland
For families with mature children, especially those interested in history, a journey through Poland's major cities offers a blend of site seeing, shopping and cultural appreciation. As a starting point, Krakow's Gothic foundations create a haunting backdrop for the UNESCO-listed Medieval Market, where local artisans sell hand-crafted decorations and gifts as well as local delicacies. It's one of the most underrated cities in terms of historical architecture and scenery. You'll be immersed in an atmosphere that is rapidly changing, as Eastern Europe makes giant strides towards becoming a major tourism powerhouse. MIR Corporation offer an eight day Christmas Traditions of Poland tour with a loaded itinerary, which is "very intimate and hands-on," according to its founder, Douglas Grimes. "Guests attend a workshop with artisans who craft Christmas decorations by hand, and they tour a factory where the famous hand-blown glass ornaments are created. "Day trips to Auschwitz and Birkenau are also on offer for families interested in World War II and its heavy legacy. This inner city experience is countered with torch-lit sleigh rides in the nearby countryside, followed by bonfires in the evening.
The train trip from Krakow to Warsaw takes you across Poland's striking winter scenery, before bringing you to another majestic city that doesn't get the credit it deserves. A walking tour of Warsaw's Royal Road, all decorated with lights, sets the mood for another cosy stay in a beautiful city. The Warsaw Christmas Market is another highlight of the Christmas Traditions of Poland tour, giving visitors the chance to taste great local food and pick out unique hand-made goods. "One of the absolute highlights of this tour is the traditional family-style Christmas Eve vigil and dinner know as a Wigilia," says Grimes. "Wigilia is considered more important than Christmas Day itself."
A Local Christmas In The Countryside
The Cotswolds
You don't have to go anywhere far to enjoy Christmas with your family. The local weather around the United Kingdom is actually primed for evenings around the heater, drinking soup and red wine, and swapping silly stories with your siblings and parents. If you are planning on taking a local trip, try renting a house in the Cotswolds, a small slice of quaint paradise, where the old buildings, traditional pubs and churches fit in perfectly with the countryside setting. The Christmas Market at Cheltenham makes a fun day excursion and gives everyone a reason to go outside and get some fresh air. Alternatively, you can always take walks and bike rides outside on those rare, cloudless winter days, when it's sunny for a few hours. It may be a personal bias, but for me, buying groceries and staying at a house with a kitchen where you can cook and entertain a family, outweighs being crammed around a restaurant table.
Friends
There's nothing quite like experiencing Christmas in a different country. Each place has its own set of traditions, history and special dishes, and the cities on our list are no exception. But what about celebrating Christmas with a different group of people? What will happen to Christmas if we leave the family photo album behind, bid mum and dad goodbye and jump into a car with the people who have instigated those wild nights, relaxed with you when you didn't feel like doing anything or dragged you out of bed when they needed you to join them on some crazy expedition? Well, quite simply, memories happen. When you combine friends and travelling, you're guaranteed to have a holiday unlike any other.
For Warm Weather
Honolulu, Hawaii
Finding Hawaii on this list is no surprise - it's a must-see destination all year round, but it's even more special during Christmas time. Honolulu, the capital city of this coastal gem is the ideal place for a warm Christmas. If you're up for a bit of exploring then you can visit the historic places that seem to hide in the shadows of Hawaii's beach waters. From the subtle grey columns and bright green palm trees of Lolani Palace to the lighthouse landmark of Aloha Tower, Hawaii's history is diverse and interesting.
No trip is complete without taking in some of the local arts, culture and entertainment. Between shopping for gifts at the markets and watching the Christmas lights getting put up, try to find time to visit Oahu, the place known as the epicentre of Hawaiin nightlife. Restaurants, bars and clubs serve up an interesting combination of local delicacies, live music and dancing - you'll definitely have ample opportunity for new Instagram pictures.
And now for the big one: Christmas. You've explored the city in the run up to the 25th of December, you've jumped into the waters, listened to tour guides as they told you about the historic landmarks and danced until your feet hurt in one of Oahu's clubs. How exactly do you have a warm Christmas in Hawaii? Well, you'll definitely see Christmas lights - residents start putting them up as soon as the last piece of turkey is eaten. The Christmas concerts (outdoors, of course), community parades and holiday markets are filled with joyous people singing some familiar carols and a few traditional songs that you might want to learn. Your Christmas decorations are also slightly different; you'll find Father Christmas on a surfboard or wearing an aloha shirt. As you enjoy your picnic lunch at the beach, keep a look out for him; according to Hawaiian children, Father Christmas rides a red canoe pulled by dolphins. Mele Kalikmaka everyone!
Santiago, Chile
We know Santiago is a popular destination for backpackers and adventurous travellers, but what's the city like during Christmas time? As you can imagine, there are no snowmen going up, no packed ice rinks and nobody walking around with layers of clothing on. In Santiago it's summertime and it's all about keeping cool, staying refreshed and basking in the sunshine.
It's the perfect time to rent an apartment on the beach; who needs a cabin in the cold woods when you've got the sea and sunshine at your fingertips? It's quite easy to get an apartment as most residents don't use their vacation homes on Christmas - they prefer to spend their time at home with their families. While you might be looking forward to the big day, there are lots of other attractions in Santiago that you should see. The view from Cerro San Cristóbal, the second highest point in the city is said to be one of the best in the country, especially if you get a chance to watch the sunset. No trip to Santiago is complete without a visit to Plaza de Armas square, the meeting place of lively locals and enthusiastic tourists. You'll find art, music and food on full display and there's even public dance displays on the weekends.
The celebrations begin as the sun sets on December 24th; grab your champagne, add some pineapple ice cream to it and celebrate the holiday the Chilean way. At dinner you're guaranteed to find Pan de Pacua (Chistmas bread), a fruitcake-like dessert spiced with cinnamon and cloves and studded with dried fruit - the locals absolutely love it. In Chile the 25th is the big family day so most places will be closed. Instead of going to a restaurant, spend the day in your home - especially if you've rented a beach house - and celebrate Christmas with your friends the Chilean way. Cook an oven roasted chicken and learn how to make cazuela de ave and pan de Pascua.
Seeking Something Cooler?
Sweden
It's so tempting to include Stockholm, with its clear lakes that meet up with the sea, centuries of history and culture and a progressive, fashionable lifestyle; it's no suprise Stockholm is considered one of the best cities to live in. But since information on Stockholm is widely available, we thought we'd include a city that's just as beautiful, albeit lesser known. Gothenburg is Sweden's somewhat secret gem. The quaint canals and cobbled streets are reminiscent of a smaller city with a lot of history and Gothenburg seems to have that touch of magic that makes the past come alive.
If you're going to Gothenburg, then you should stay in one of the picturesque wooden houses in the district of Haga. Renowned for its 19th century atmosphere, bohemian cafes and antique stores, Haga is a small district that was mainly inhabited by working class people before being revamped in the '80s. With this mix of history and culture, Gothenburg really does bring an interesting touch to the festive season.
Aside from the cafes and antique stores, Gothenburg is home to Sweden's largest botanical garden, boasting over 16,000 species. Can you imagine the gardens lit up during Christmas? And while visiting the multitude of museums and enticing restaurants sounds like a holiday-maker's dream, the real fun begins with the winter sports activities. From skiing in Göteborg Landvetter to tracking wild reindeer and moose on a safari through Lapland's wilderness, Sweden is certainly not short on activities in the winter months. Christmas in Gothenburg combines contemporary Swedish design and traditions. Lights can be seen from the harbour and throughout the city with stylish outdoor displays all culminating in millions of twinkling lights in Liseberg Christmas market.
Prague, Czezh Republic
Prague is probably one of the best places to spend Christmas. It mixes traditional food, familiar carols and various religious beliefs with modern light displays, fashionable markets and a winter wonderland spectacle. The Christmas markets are open daily - even on Christmas and New Year's Day. The food is delicious, the people are welcoming and the spirit of Christmas can be felt throughout the city.
Over the festive period, performances in the city reach a fever pitch. Classical concerts are very popular in Prague and some of the best theatre productions can be seen in the old churches and grand concert halls. Of course, if concert season is near, then opera and ballet season doesn't fall too far behind. The shows are definitely worth watching if you're going to be visiting Prague during December. And what's a winter Christmas without some cross country skiing? The best place for this is Stromovka, a park that gets converted into a skiing field during winter. Oh, and diving into the Vltava river on boxing day is something that shouldn't be missed - if you have the skin for it. People of all ages and nationalities gather to dive into the freezing cold waters, for a reason I admire, but don't understand at all.
Here's A Good Ol' Traditional Christmas
Edinburgh, UK
Edinburg is adorned with twinkling lights, Christmas trees that seem to reach the sky and Christmas figurines that light up throughout the holiday season. As snow flecks illuminated by the city lights fall lightly on Christmas Eve and the smell of roast turkey and goose come seeping through, you'll know that there's no better place to have a traditional Christmas. This should also be around the time you start heading out to see what Christmas nightlife Edinburgh has to offer.
The twilight ride on the ferris wheel is one of the best features at the Christmas Market in Princes Street. Follow this up with some ice skating under the stars with the blue-lit castle above you and you're already set up for a memorable festive holiday. Of course, once that's done, the next step should be to head down to one of the pubs for glühwein, egg nog and freshly-fried doughnuts. The Dome and Captain's Bar are famous for their Christmas cheer. You might wake up with a hangover on Christmas morning, so be prepared to stay at home. Renting a house with friends and having a traditional lunch surrounded by the rowdy people you love most is the best way to spend your day.
Vienna, Austria
Let's start with the Christmas markets in Vienna, of which there are many. Starting in mid-November, the prettiest squares in Vienna transform into magical Christmas markets, each with their own aroma of traditional desserts, bustling atmosphere and unique items for purchase. Vienna Magic of Advent has more than 150 stands of Christmas gifts, tree decorations and warm drinks. Once you've explored the fairytale land, you can head to the Christmas village on Maria-Theresien-Platz where you'll find traditional handicrafts and unique gift ideas. No trip to Vienna is complete without a ride on the 19th century Riesenrad ferris wheel. Grab your friends, brave the cold and enjoy the spectacular views. Once you've done that, you can warm up by visiting Porgy and Bess, one of the best live music venues in Vienna.
There are quite a few fine restaurants open in Vienna on Christmas Eve and although you may even come across a few open on Christmas day many of them are likely to be closed, so your best idea would be to have lunch at home. If you really do want to venture out, then I would advise visiting Vienna Restaurant and Historic Inn. You can get the traditional roast turkey and goose, potatoes and vegetables or you can opt for the specialities on the menu: cordon bleu, hors d'oeuvres and baked stuffed shrimp. If you're a larger group of people, you can ask for a private room with a fireplace. It's like Christmas at home, but without having to wash dishes.
Do Something Unique
Kenya
Nairobi has all the bustle of a developing town and the atmosphere of tradition that we've come to associate with many African cities. From street hawkers and markets, to skyscrapers, dusty shanties and the suburbs, Nairobi's environment is a pit of lively culture. Christmas in Nairobi is quite low key, so you and your friends will have to keep the Christmas spirit alive.
To get that "Christmas feeling" in Nairobi, you should visit one of the churches. Most of the churches put together a special day for the children who come from the slums. The children put on a nativity play complete with Mary, Joseph and baby Jesus. Afterwards, there is a small get together and Christmas lunch arranged for the children and volunteers. Most of the children come from the poorer areas of Nairobi so donations are taken for food which the volunteers help prepare after which everyone sits down to feast and be merry. In Kenya, gifts aren't expected, instead people celebrate Christmas with "feast and presence" - as long as you're eating and you're there, you'll have a great Kenyan Christmas.
If you're going to Kenya, you should do yourself a favour and explore the land. Going on a safari is one of the best ways to do this, and you don't even need to leave the city to enjoy it. Nairobi National Park is the only wildlife park in the world that you can visit by taxi or bus. Inside you'll find lions, cheetahs, leopards, buffaloes, hippos and so much more. You may have seen pictures of some of these animals, but that really doesn't do the experience any justice. Make sure you go between 11 am and noon; that's when keepers take the baby rhinos and elephants for their daily mud baths.
Las Vegas
Las Vegas is known for doing everything on a big scale, but is it really a place to celebrate Christmas? If you're with family, maybe not. But with friends, there is nothing quite like Vegas during Christmas. Everything is brighter, bigger and grander.
Unlike most places, Las Vegas doesn't shut down during Christmas. Everything will be open, and we mean everything. From shops, restaurants and bars to casinos, buffets and attractions. You can get a buffet catering for a traditional Christmas dinner or you can get something unconventional - fish and chips for Christmas anyone? The buffets can be quite pricey, so it's probably better to enjoy a meal at a hotel.
The spectacular holiday light extravaganzas will definitely grab your attention, but it's the themed musical selections at the Fountains of Bellagio that will keep you enthralled for hours. Some of the best places to visit would be Caesar's Palace and Planet Hollywood, and this year there will be quite a few musical acts, from Celine Dion to Britney Spears. Another place you should visit is the Opportunity Village; sure the sparkling lights and Father Christmas might seem a little child-like, but that doesn't mean you can't enjoy it.
Solo
Travelling solo over the festive season is not as bizarre as it sounds. Going to a new or different place alone forces you to take one of two courses of action: come out of your shell and make new friends, or enjoy your own company and embrace the rare opportunity to spend some quality time alone.
Christmas is a great time of the year to embrace the opportunity to go it alone, if you're not choosing to spend it with family – it's a time of reflection, self-analysis and renewal. Then again, Christmas has a tendency to get under a lot of people's skin; if the commercial rigmarole of present-buying and forced cheers makes you want to gag, take refuge in the fact that there are some incredible travel bargains near the end of the year, especially for places that don't cater for families.
For Warm Weather
Tropical Tree Climbing In Manaus - The Brazilian Amazon Rain Forest
Hitting the Amazonian rainforest over Christmas is another classic adventure holiday that could just as well be enjoyed by the whole family, but there's a strange, primal appeal to going alone. The Brazilian city of Manaus offers the last remnants of urban sprawl before the Amazon Jungle covers the land in a canopy of dense greenery. It's also the meeting place of the Negro and Solimões River, a unique phenomenon that gives rise to some impressive seasonal waterfalls during the rainy December period.
Tropical Tree Climbing, a family-run ecotourism company based in the forest two hours from the city, offers a unique way to see and experience the amazing biodiversity of the Amazon – from the top of a 60 meter high Angelim Tree. They specialise in custom tours for small groups of adventure tourists and wildlife photographers (or people who dabble in both). The tree climbing excursions can be arranged on a daily tour basis (ground transportation there and back is available for travellers staying in the city), but actually going there for five to eight days allows you to immerse yourself in the rainforest and really get a feel for this wild, sensitive pocket of untamed wilderness.
Co-founders of the company, Vanessa Marino and Leonide Principe, both make a point of showing their commitment to eco-friendly, sustainable tourism in the area, which is an imperative ethos if travellers for generations to come expect to enjoy the rainforest as they are now. Their site promises dedication "to bringing fresh perspectives to the recreational and educational Amazon Rainforest travel experience for the enthusiastic nature traveler and wildlife photographer." They're committed to achieving the best sustainably operated tourism opportunities, both as stewards of the earth as well as the rainforest's inhabitants.
Seeking Something Cooler?
Marrakech To Mount Toubkal
The hike up Mount Toubkal, North Africa's highest peak, is a personal challenge characterised by contrasts and is ideal for travellers wanting a mixture of solace and new experiences from the same trip. Morocco's winter weather is a mixed bag, too. The days are typically dry and sunny with spells of rain, while the nights and mornings are very chilly. Make no mistake – this is not your typical Christmas holiday with lights and carols, but neither is travelling alone this time of the year, so I don't suspect you'll mind. The adventure starts in Morocco's frenetic capital city, where the souks and alleys hum to the tune of foot traffic and the daily business of buying and selling. Djemaa el Fna, the market at the heart of the medina, borders on magical, with snake charmers, storytellers and fortunetellers bringing an element of showmanship to the rows of stalls, where vendors sell everything from spices to livestock, jewellery and tapestries.
Your next port of call is Tahanaoute, a berber village on the foothills of the Atlas Mountains, roughly half an hour away from Marrakech. It's not a particularly far drive, but it feels like you're covering a vast distance because of the change in land, greenery and climate. Here hikers are introduced to the mules, which carry the baggage and provisions for the duration of your ascent. They've been described as "the multi-purpose all-terrain vehicles of the mountains," by The Adventure Company, who are offering a guided, eight-day tour to the summit of Toubkal. The trek from Tahanaoute to the Nelter Refuge is the first serious day of walking, and the more intense physical side of the trip is countered with bigger rewards. The snowy mountain road is marked by holy sites, orchards and startling views across the valleys and plains below.
As part of a tour group, you'll get the perfect amount of social interaction to balance out a trip that will be full of moments of self-reflection and personal 'me-time'. Reaching the summit of Mount Toubkal over the next few days will be a thrilling challenge to weekend hikers and an amazing exercise for experienced climbers. On clear days you can see the Atlantic Ocean winking in the distance to the West and the Sahara Desert to the East, giving visitors a rare gift before hiking back down to base camp and then Marrakech.
Have A Good Ol' Traditional Christmas
New York City
One way to embrace the freedom of a holiday spent alone is to go to a city that has millions of people living in and around it, all unified in their anonymity. New York City has a magical quality 365 days a year, but during the Christmas period it really shines. That famous skyline, all dressed up in snow and bright lights, completes the Winter Wonderland theme. To be honest here, it's definitely a destination that could also be well-spent with the entire family, but I'd be terrified to find out how expensive that would be. As beautiful as the Big Apple is, it's very pricey. Going there alone makes it easier to take advantage of ways to save rather than being there with a crowd – for example, walking twelve blocks to your hostel or a different part of town rather than forking out for a cab.
Another aspect that makes it good for solo travellers is the constant stimuli; the entire city goes into festival mode, offering traditional favourites like ice skating in Central Park (brace yourself for the ice skate rental prices), the lighting of Rockerfeller Center and its monstrous Christmas tree, St. John the Devine's Winter Solstice and Macy's festive season setup. The nightlife scene is an attraction on its own, and just after Christmas the city hosts one of the most famous New Year's Eve bashes to round up your trip. As a visitor to New York, you're constantly looking at things and processing what's around you, which makes it feel quite natural to be alone.
Do Something Unique
The Other Iraq, Kurdistan
In the true spirit of celebrating Christmas alone, go to a place that challenges your perceptions and gives you a new perspective on things. Kurdistan is not the Iraq that we see on the news. It's a peaceful, friendly, ecologically diverse region that is cut off from the violence in the South and very much on the upward swing. Erbil, the Capital City, is showing all the telltale signs of a destination that is alive with economic growth – it's written all over the new skyscrapers and construction sites. Contrary to popular belief, Kurdistan is not the desert. It's home to ancient sites, unique landforms, citadels, waterfalls, caves and lakes that are comparable to those in Turkey, but without the heavy foot traffic.
The country's natural beauty speaks for itself, but the people are the ones who really need to be heard above the preconceptions that are made about the country. Douglas Layton, co-owner of The Other Iraq Tours spoke to me about the diversity of people living in Kurdistan. "Many are descended from the ancient Medes. One of the tribes of the Medes was the Magi of Christmas fame. It was once a center of Astrology, but is now home to many Christians as well as descendants of the Zoroastrians. Two thousand years ago these astrologers were looking for a prophetic star to announce the coming of the Messiah. Residents of the city of Amadiya (An ancient Jewish Center during the Diaspora) believe that it was from here that the Magi set out toward Palestine in search of the Child born in Bethlehem (as prophesied by Micah the Prophet) - true or not - it is an incredible place to visit at Christmas."
Last Updated: October 2013