All the days in February pale in comparison to Valentine's Day. Even the cynical have to admit a twinging of the heart strings when the card companies inundate us with naked babies shooting arrows. To help all types make it through the day, we've collected the best activities for romantics and the not-so-romantic. Impress your better half with these thoughtful ideas or survive the day with your sanity intact with our useful tips.
Valentine's For Romantics
Valentine's Day means different things to different couples. For some, it's an opportunity to be cheesy and pour over one another like besotted teenagers. Others use it to say scathing things about commercial holidays – while secretly planning a romantic excursion behind a partner's back. Certain couples outright cannot stand it, and go out of their way to escape the hype – together, at least.
No matter how you feel about St. Valentine's Day, it is a fantastic time to be with a loved one – it's cold at home in the UK (ideal for cuddling), there are fantastic winter season deals abroad (if you'd like to get away from said bad weather) and February is a short month, so payday doesn't feel like an eternity away. To give you some inspiration for this famous Hallmark Holiday, we've decided to compile a list of the best Romantic Holidays Ideas for all couples – from romantic novices to full blown Casanovas…
Romance Level: Casanova
For the couples who name stars after one another, hold hands at the movies from the previews to the credits, and continue to embarrass their friends with outrageous displays of public affection…
City Break At The Valentine Guest House, Edinburgh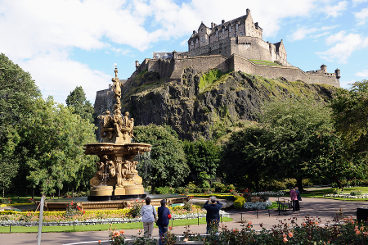 Valentine's Day at home or in the countryside with a delicious meal and a bottle of bubbly won't go out of style in a hurry. It's a classic formula that has warmed people's hearts for decades - even the most hard-boiled cynics. But for couples wanting to combine a holiday experience with romance and something extra, an impromptu city break offers a refreshing change of scenery to complement the occasion.
You don't need to look as far as Europe or South America to find world class options – we have several right on our doorstep. The Valentine City Centre Guest House is a stunning 19th century Georgian townhouse, located in the south west corner of Edinburgh's Old Town. As a couple's venue, it provides all the trimmings of a romantic weekend away: five star accommodation, customer service that is renowned for friendliness, and a huge, complimentary breakfast to ease the champagne blues in the morning. Above the magnificent room you're staying in, the city is right on your doorstep, offering its castles, museums, restaurants and romantic lookout points to you. Edinburgh scarcely looks as mystical and epic as it does during winter.
Romance Level: Adventurer
For those crazy couples who have pictures of themselves sky diving, making faces on a rollercoaster and petting crocodiles on the fridge…
Hot Air Balloon Ride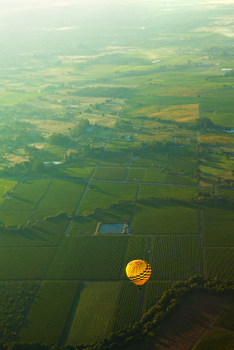 Hopping into a giant picnic basket and sailing high above the routine of our daily lives is a wonderful experience - best enjoyed with a glass of champagne and good company. It's the flying equivalent of a slow, relaxing stroll through the clouds, which adds a nice twist to the traditional afternoon walks you may normally take. What's more, viewing your neighbourhood or the countryside from a bird's perspective will remind you of something that is easy to forget: the UK is a beautiful country…
Booking a hot air ballooning trip with your partner as a Valentine's Day treat will require some spontaneity. It is a weather permitting activity – fog, rain and extreme winds are no good. It's best to speak to your tour provider a day ahead of schedule to find out about the upcoming conditions. But if you get it right and the trip works out, it'll be a wonderful excursion you and your partner won't forget.
Couple's Suggestions: hot air balloning can also be a great group activity for like-minded couples who share a love of new, thrilling experiences. Balloons Over Britain offer trips for 2-16 passengers at a time, so you can share the experience with your friends. Tours are available throughout the UK, which makes it easy for anyone.
Romance Level: Sun Worshiper
For couples that take strain over the winter season and count the days down until summer arrives…
Go To The Beach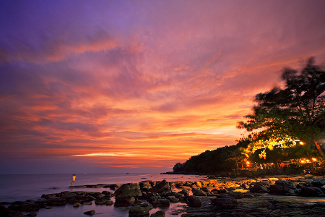 The romance of sitting by a fireplace and enjoying a cold evening indoors can get lost in the prevailing season – it's what most people are doing in February, anyways. If you are keen to spoil your partner (and yourself), head across the pond and beat the summer crowds at one of the Top 10 Winter Sun Destinations, including Cape Town, Oman, Malta and more.
Choosing where to go can be tricky. To start your search, Room for Romance offer a selection of luxury, budget, spa and boutique hotel options at a wide range of choice destinations – from Tuscany to Marrakech, the exotic Isle of Capri and more. Their website is 'packed with details of romantic hotels, intimate inns and chic hideaways perfect for a romantic getaway'.
Romance Level: Trendy Romantic
For modern couples who work and play hard, live manic lives in the city and spend most of their days attached to an electronic device of sorts…
Spa Weekend Or Single Treatment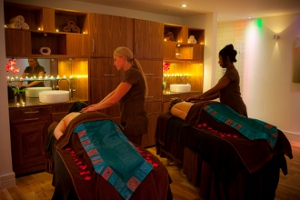 For many people, the New Year just sneaks up and doesn't give you a chance to recover from the festive season. Before you know it, you've been back at work for a month, the Christmas tree is still standing in the lounge and it feels like the holidays were a fragment of your imagination. If your partner is in a position like this (or they so happen to enjoy a good pampering), a spa retreat or treatment makes a wonderfully romantic gesture.
Your options for spa treatments are as varied as you need them to be. From hot stone treatments, to essential oil massages, shiatsu, yoga infused stretching workshops and good old steam baths – just tell the spa therapist where it hurts, and they'll do the rest. For those wanting to keep the spa retreat local, we've compiled a list of the best spas in the UK. If you are prepared to cross international borders, we've also counted down the Top 10 International Detox Resorts.
Romance Level: Cynic
For those couples who swear Valentine's Day is total bollocks…
An Angry Death Metal Concert – Together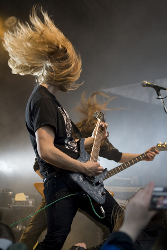 Nothing says "I love you… but I don't care about Valentine's Day" quite like watching a group of angry individuals on stage, beating their instruments and screaming aggressive lyrics about their broken hearts/egos/maternal relationship. We're not talking about rock music, either – forget the Foo Fighters or Radiohead. We're talking death metal. Look for bands with names that point to their anti-romantic sentiment: keywords like "shame", "scars", "pain" and "sin" are normally a dead give away. They are normally at bars and venues that offer nothing in the way of romantic ambience, and very little choice when it comes to suggestive dining – there's beer, vodka or gasoline on tap. A good session in the mosh pit should leave you and your equally cynical partner purged of any Valentine's Day nausea, and ready to carry on with your lives.
Check out www.allgigs.co.uk for listings…