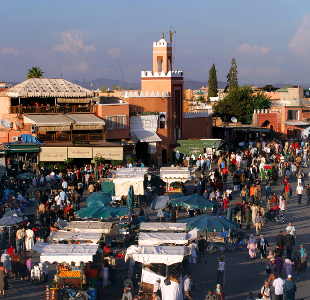 On the northern most tip of Africa and just below the Atlas Mountains lies Marrakech, a beautiful, vibrant city, full of history and culture. This former imperial city is a mix of ancient and contemporary cultures, languages and customs. The bewitching, magical city has a lot to offer from friendly locals - mouth-watering local cuisines, breathtaking palaces, mosques and the famous souk markets. Whether you want a tranquil and relaxing visit or the sensory jolt that is the Medina; Marrakech's people, music and energy will certainly stay with you long after you have left.
Lunch At Le Tangia Restaurant
Having ventured through the market and tasted some of the local street food served, it's now time to head to one of Marrakech's restaurants to continue your love affair with Moroccan cuisine. Not only will you get to enjoy a good meal that truly brings Marrakech alive, but you'll also be treated to some entertainment in the form of belly dancers, with daring routines including dancing with lit candles on their heads - the ease with which they do this makes it even more magical. Le Tanjia is not only a charming restaurant that allows you to get a delicious lunch away from the hustle and bustle of the city, but a continuation of Marrakech's spirit with its friendly service and warm atmosphere.
Saadian Tombs
The Saadian Tombs are situated in the Medina of Marrakech and have been sealed for many centuries, which explains why it's a must-see attraction for anyone visiting Marrakech. Superstition is said to have kept the tombs from being destroyed by Moulay Ismail after he became ruler of Marrakech in 1672. Instead of destroying them, he ordered the tombs to be sealed and they remained hidden until 1917. The two main mausoleums have 66 tombs laid out within them containing the remains of the members of the Saadi dynasty who ruled Morocco in the 15th century, there are also over 100 more tombs of Saadian princes and other members of the royal household outside in the gardens.
Ben Youssef Medersa
Ben Youssef Medersa has been described by many as breathtaking; the magnificent detail in the marble, striking curved arches complemented with intricate mosaic pieces and how well it has been preserved makes this one landmark you won't want to miss seeing when in Marrakech. The Medersa used to be a Koranic boarding school dedicated to teaching Islamic laws and scriptures and the largest such institution in North Africa. And although the Medersa is no longer in use, you can still appreciate its beauty and rich history.
Traditional Hammam
A Hammam is a steam room, similar to a Turkish bath, where Moroccans habitually go each week to cleanse themselves; here they get steamed, scrubbed, rinsed and massaged. Unless you want to take a private hammam with your partner - men and women are usually separated - I suggest you go the authentic route and try a hammam in one of the local bathhouses. This is where the locals go to socialise, gossip, and even do business. This is one experience you have to try, unless of course baring your skin in front of strangers seems like an absolute nightmare. You'll need to bring a towel, your swimsuit, a hammam glove and savon noir, which is the black soap used in the hammam. After the steaming and scrubbing, not only will you leave the hammam feeling rejuvenated and refreshed, but also a little bit lighter.
Back to top
Cafe de France
After you've ventured into the souks and bargained like a local, it's now time to catch your breath and grab a drink to cool you down. Cafe de France is where the locals go to enjoy some mint tea and get a great view of the Djemaa El Fna below. Cafe De France has a quaint, charming atmosphere, especially on the rooftop where you can sit and enjoy the spectacle of life on the square.
Djemaa El Fna
After watching the drama of the square unfold, enter the most well-known and visited souk in Marrakech, Djemaa El Fna. No other souk in Marrakech comes alive at night quite like this one. The magic of Marrakech thrives in Djemaa El Fna, where you will be overwhelmed by the sheer sensory overload of all the people selling and buying, and the goods on offer. The market is a mix of snake charmers, trained Berber monkeys, storytellers, medicine men, jugglers, henna tattoo artists, dancers and much more - you can just imagine the carnivalesque atmosphere the square has. Remember to make sure you get permission before taking pictures of the jugglers or snake charmers as they tend to charge for this.
Cantobar
Your last stop for the night is Cantobar. With their friendly staff, a luxurious and warm atmosphere and great DJs, this is a great place for you to enjoy a nightcap. The decor is eye-catching - can you imagine sipping a cocktail while seated on an armchair shaped liked a high heel? Cantobar is the perfect way to complete your night out in Marrakech and you're bound to have a memorable time whether you're with friends or family. They even have karaoke so you can debut your musical talents in Marrakech.
Back to top
Last Updated: November 2013