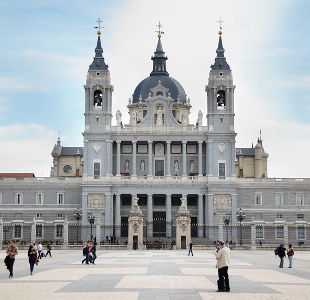 With Madrid being the biggest city in Spain, it's not only the financial hub but also world renowned for its art - you may just fall in love. Madrid has been around since the Roman Empire and there is no shortage of beautiful ancient sights to give you an insight into the city's vast history. Visit this old Spanish city which meets cutting edge chic, our 24 hour guide will help you steer between the modern and ancient Madrid. Check out an ancient sweet shop specialising in Parma Violets, club through the night in techno hangout Demode and enjoy the early morning views from the 17th century Templo de Debod.
El Brillante
Breakfast at El Brillante may be chaotic, but there's no better way to start the day. Madrileños tuck in to freshly squeezed orange juice, tortillas and industrial strength coffee at this tapas bar. Don't worry about chucking used serviettes on the floor - it's part of the etiquette.
Atocha Station
Life gets going late in Madrid, so this is the perfect, peaceful time to explore this busy commuter railway station and its unusually located lush tropical garden. Grab a bottle of water and luxuriate amidst the 500 different botanical species.
El Prado
Madrid boasts three of the world's finest art galleries (the other two being Thyssen-Bornemisza and Reina Sofia), all within a stone's throw of one another, and the Prado is the jewel in the crown. All your Goya, Velázquez and El Greco needs will be sated between these four walls.
Los Mostenses
Hunks of tuna the size of a small car, the odd escaped crab, Chinese noodles and South American fare... Los Mostenses is one of Madrid's biggest food markets. Look for Spanish favourites such as shellfish, hams and cured meats.
Calle Fuencarral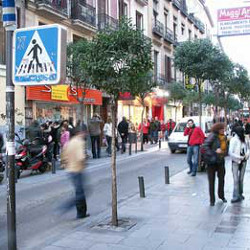 Once a dodgy part of town, now one of the city's coolest shopping avenues, Calle Fuencarral is one of the main streets in the historical part of town. You'll find everything from clubwear and designer labels to interior design shops and funky tapas bars. If you're not interested in shopping, this street is still worth a visit, always crowded, it pulls an eclectic mix of people. Sit at one of many unique tapas bars and people watch the interesting crowd.
Chiquipark
Chiquipark is a mammoth children's activity centre with a crèche, two-floor play area, slides, toboggan runs, ball pits, inflatables, crash mats, internet area... Take the kids and watch them go wild!
J&J Books
Stacked to the rafters with English-language books and magazines, J&J Books is a great place to meet English speakers as well as those wanting to improve their language skills. Order a drink at the bar and challenge someone to a game of Scrabble to get things started.
Ribeira do Muiño
Madrid might not be near the coast, but fantastic fresh sea food is flown in every day. At Ribeira, the fresh shellfish is the star. Feeling brave? Try the flaming liqueur that comes after dessert.
Calle Preciados
Lunchtimes are strictly observed in Madrid. Bigger stores are open in the early afternoon but fairly empty so this is the perfect time to do a spot of European shopping and explore French megastore FNAC as well as Spain's largest department store El Corte Ingles, both on Calle Preciados.
Madsegs Segway Tours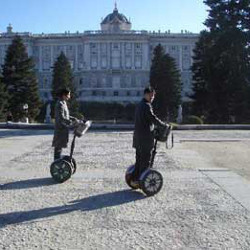 English speaker Antony will be your guide on this tour that takes in the Plaza Mayor, Royal Opera and Plaza de España. Available 6 days a week, it's a unique way in which to get around and see the heart of Madrid. He'll also teach you how to use a segway - a gyroscopically balanced two-wheeled wonder of transportation. You'll get to enjoy regular bar stops too. Booking in advance is essential and you can easily do this online from anywhere in the world!
La Violeta
Remember those Parma Violet sweets you used to scoff as a kid? They're the star product at this quaint little sweet shop. You might be tempted by the candied fruit and grown-up chocolates too.
El Parque del Buen Retiro
A boating lake, grand monuments and immaculately kept gardens - all reasons why Madrileños have kept coming to this park since the 17th century. There are puppeteers and street performers on hand to keep children entertained.
Antigua Pastelería del Pozo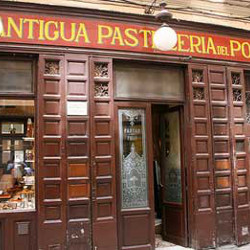 The Spanish don't sit down to dinner until at least 10pm. Tiding them over since 1830 has been pastry shop Antigua Pastelería del Pozo - not even the decor has changed. With cheap food and generous quantity you'll be hanging out with the locals and taking in the best pastries Madrid has to offer. Try a roscón - a huge ring pastry filled with cream - and turrón nougat.
Las Carboneras
Find your duende - that mythical emotional state that only flamenco can evoke - at Las Carboneras. Its outstanding guitarists, singers and dancers make this one of the finest shows in town - ¡ole!
El Tempranillo
Real Madrid star Guti's favourite wine bar, with its huge wooden wine rack stocked with bottle after bottle of fine Riojas and Ribera del Dueros.
Taberna Txakoli
It's Spanish dinner time! Work your way down the tapas bar at Txakoli. Be sure to try at least one that comes with Spanish ham, as well as the crab and mini-hamburger varieties.
El Junco
Cool jazz joints don't come much cooler than El Junco. If there's not a live jam session you'll be able to enjoy DJ sets from local vinyl connoisseurs.
Cines Princesa
Madrileños love the cinema, so beat the queues by going at midnight. At Cines Princesa English-language films are subtitled rather than dubbed, so even if your Spanish is limited to "dos cervezas" you'll be able to enjoy the action.
Shooters
Pool sharks of all nationalities hang out at Shooters, Madrid's finest pool hall. This is also the place to come for a proper pint - Spaniards tend to enjoy small caña-style beers.
Demode
One of the city's coolest venues (located in a former house of ill repute), Demode is a pre-club haunt sporting a strange combination of techno and chandeliers.
Mondo
Get here before 3am and you'll be on your own. House and techno is dished out by resident and visiting international DJs - Josh Wink is a regular, as is the British legend A Guy Called Gerald.
Torero
Fancy dancing to cheesy Spanish pop? There's no better place than Torero ('bullfighter' in English). Guys and girls will be all dressed up smart and busting some serious salsa-style moves.
Cafetería San Gines
Come to Chocolatería San Gines for chocolate con churros - rings of batter dipped in impossibly thick hot chocolate. Don't be surprised to see families with toddlers still running around in the wee hours - that's the Spanish way.
Last Updated: February 2014