The most famous of the seven Arab Emirates, Dubai is a glossy, cosmopolitan destination that's rarely shy of attention. Dubai offers travellers a heady mix of east and west combining a glamorous nightlife scene with strict Islamic laws. It's an exciting combination that, together with inventive man-made attractions and a stunning desert landscape, has made Dubai one super hot destination. Perhaps its only rival is the city of Abu Dhabi. Simply spend 24 hours in Abu Dhabi to find out why. See Essential Travel's round-the-clock guide to get the most out of Dubai and discover where to smoke a sheesha, shop for gold, enjoy a meal with a view or snowboard inside a shopping centre.
The Montgomerie, Dubai
This two hundred acre course is the perfect place to start the day. There are fourteen lakes and more than seventy bunkers on its beautifully undulating fairways and greens. The course is an epic challenge for amateur golfers as well as an exciting place for beginners to learn.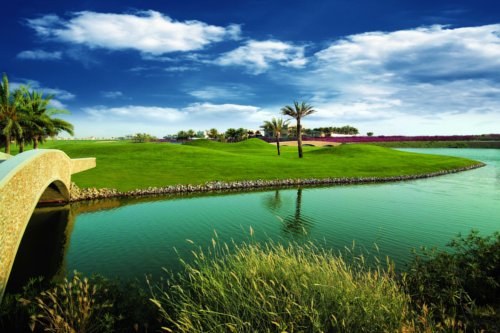 Shakespeare & Co
This chic (in a granny sort of way) little eatery has something for everyone. There's a family friendly vibe (despite the opportunity to smoke a sheesha out on the terrace), patisserie treats and a dining menu. The breakfasts are something special with Western options, Lebanese specials and a crepe menu.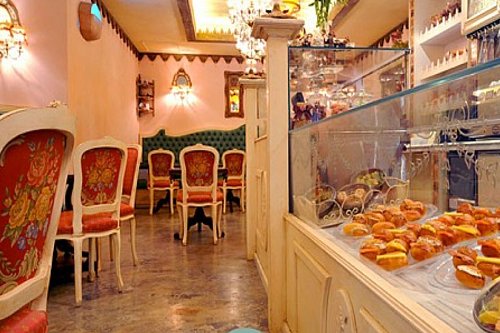 Al Mamzar Beach Park
This popular beach is less crowded than the famous Jumeirah Beach Park and can be a peaceful getaway during the week (except Fridays, which is the first day of the weekend). A clutch of beaches, green picnic areas, an amphitheatre, children's playgrounds and even two swimming pools make it an excellent destination for families on a warm day.
Address: Near Hamriya Port in the Deira area
Dubai's Man-Made Islands
Dubai's love of lavish spectacle has resulted in some of the most incredible man-made sights in the world. It may be superficial, but you can't help marvel at Dubai's ingenuity. There's Palm Jebel Ali and Palm Deira as well as The World (which, from above, looks like a world map) and Palm Jumeirah. The latter palm tree shaped cluster of islands can be reached from the Jumeirah coast and features water park Aquaventure, underwater tunnels - The Lost Chambers (sort of a spectacular marine centre) - and Dolphin Bay where you can play with the finned creatures. All the islands (except exclusive hotel resorts and privately owned islands) offer restaurants, bars, spas and activities.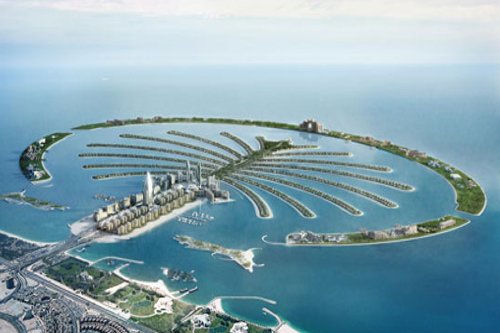 Bastakia Quarter
This labyrinth of narrow alleys has been declared a conservation area and is where you'll find traditional architecture and restored buildings sporting original features such as wind-towers (an early form of air conditioning). Set on the waterfront, east of Bur Dubai Souq, the Bastakia Quarter is a lovely place to explore when the beaches and bars get too much.
Address: Within the Bur Dubai area
Champagne Brunch at Fairmont
The Spectrum On One restaurant at the Fairmont Hotel is said to be the pioneer of the popular 'Champagne brunch' in Dubai. Ladies who lunch, business men and couples all love to indulge in this Dubai pastime and the Fairmont offers an unlimited pouring of Möet & Chandon Champagne accompanied by as much food as you can eat!
You may also like...

Explore the richest city in the world. From Camel Racing to the luxurious Emirates Palace to fast thrills at Ferrari World, here is the best of Abu Dhabi.
read more →
Gold Souk
This gold market is an Aladdin's cave! Expect gold, gold and more gold in the shape of jewellery, tea sets, ornaments and more. There are more than 300 jewellers here and most offer a range of stones and precious metals beyond gold too. The quality comes as standard as officials aim to keep control over fake gold and shonky sellers.
Address: Near Ascot Hotel, Khalid Bin Waleed Road, Bur Dubai
Website: Dubai Gold Souk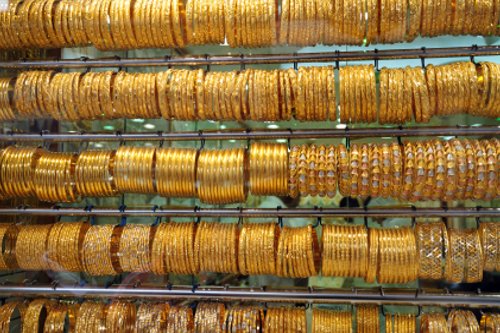 Al Wasl Cruising & Fishing
Enjoy gorgeous views of Dubai's coast line and sail around its man-made islands on a gentle cruise. Some tour companies even offer fishing opportunities and dining on board.
Al Diyafah Road
Dubai is well known for its glamorous cafes and top end restaurants, but if you'd rather have a more down to earth experience, head to Al Dhiyafah Road. It's here you'll find street food, informal eateries and a wealth of cultural diversity from Lebanese cuisine to Indian delights as well as traditional Gulf food.
Address: Al Diyafah Road or Al Dhiyafah Road
Dubai Museum
Visiting the Dubai Museum is a two-in-one tourist experience combining the 18th century Al Fahidi Fort (now the museum building) as well as archeological artifacts and an overview of the region's history before the discovery of oil.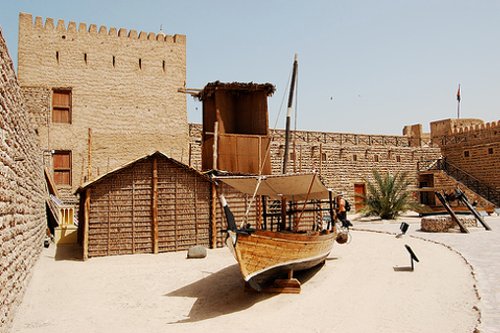 Burj Al Arab
Burj Al Arab is one of Dubai's original statements of excess. The 'seven star' hotel has a distinctive exterior (that's been likened to a ship's sail) and towers high as one of the world's tallest hotels. Room prices start at a staggering £700 at night. If your budget doesn't stretch that far, admire the architecture from Umm Suqeim beach or Bahri Bar next door. Alternatively, enjoy a cocktail on the top floor bar, or a meal at beach side restaurant, Majlis Al Bahar.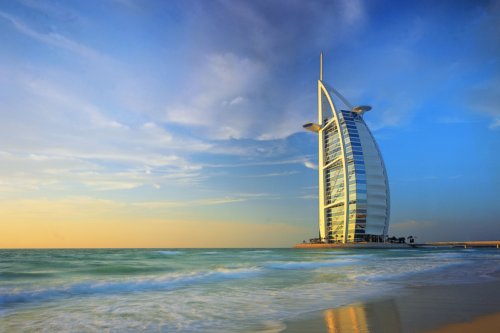 Wild Wadi Waterpark
Though smaller in scale than Aquaventure (see 9am), Wild Wadi is still a must for adventurous water lovers. Expect artificial waves for wannabe surfers, calmer pools and slides for toddlers plus Jumeirah Sceirah - a 33 metre long slide with almost a sheer drop on which you can slide as fast as 80km an hour.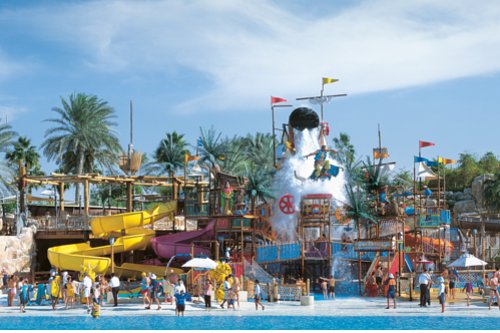 You may also like...

Explore the richest city in the world. From Camel Racing to the luxurious Emirates Palace to fast thrills at Ferrari World, here is the best of Abu Dhabi.
read more →
Desert Palm, Lime Spa
Dubai is all about artificial beauty and sometimes this is no bad thing. Indulge and relax in one of Dubai's many salons. Try Desert Palm's Lime Spa for something a little special: expect a steam room, sauna, ice room, cold plunge, heated lounges, therapeutic showers and private rooms in which to unwind.
Address: Al Awir Road
Tel: +971 4 323 8888
Website: Lime Spa
Fish Market
You may not be in the market to buy, but this shopping experience is not to be missed. The market has two sets of opening hours: 9am to 1pm and 4pm to 10pm. Head down in the evening for a more relaxed experience. There's also a fruit and veg market next door.
Address: At the end of the Al Shindagha Tunnel in Deira (opposite the Hyatt)
Neos at Address Hotel
Admire the glittering Dubai cityscape from above while you sip on a cocktail at this sleek 63rd floor bar. The bar doubles up as a dining room if you want to linger over the view.
Address: At The Address Hotel on Al Doha Street, off Sheikh Zayed Road
Tel: +971 4 436 8888
Website: Neos
Dubai Community Theatre & Arts Centre
This comprehensive arts centre features two theatre spaces, a gallery, a library and art studios, and offers arts classes as well as quality local and international theatre.
Address: Main ports include Karaköy and Eminönü
Tel: +971 4 341 4777
Website: www.ductac.org
Mall Of The Emirates
Duabi's shopping centres are so, so much more than a collection of shops. Mall Of The Emirates is one of the best, serving up a fantastical mix of international stores (including Harvey Nichols), dining and entertainment. The centre holds a cinema, the Dubai Community Theatre & Arts Centre (see 9pm), an indoor theme park and arcade, plus Ski Dubai - an indoor ski resort where you can ski and snowboard among other wintry activities.
360°
You'll get perfect views of the Burj Al Arab (see 4pm) from this circular, rooftop bar. Located on the Gulf, it offers a blissful escape from downtown Dubai. Its dark sea views, together with a relaxing sheesha on the bar's oversized sofas, make it a rejuvenating stop on a night out.
Address: Roofdeck of Marina restaurant, Jumeirah Beach Hotel
Tel: +971 4 406 8769
Website: 360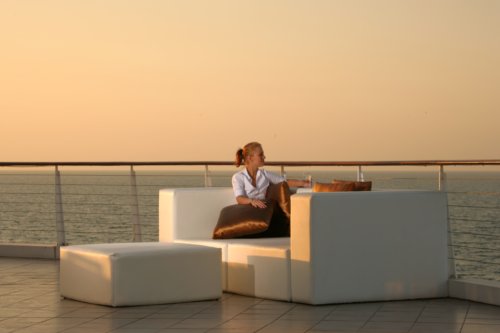 You may also like...

Explore the richest city in the world. From Camel Racing to the luxurious Emirates Palace to fast thrills at Ferrari World, here is the best of Abu Dhabi.
read more →
You may also like...
Last Updated: April 2010