Our Airport Hotel Price Guarantee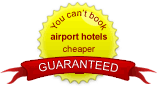 We guarantee that if you find the identical airport hotel (with or without parking) for less on the same day of booking with us and let us know immediately, we'll refund the difference in price of your booking.
How do you let us know if you find a better deal?
If you find exactly the same product for less then all you need to do is E-mail us at customerservices@essentialtravel.co.uk with:
Your booking reference number
The full web site address/url where you found the cheaper quote
A screen shot showing the details of where you found the same product cheaper. (To do this: press the 'Print Scrn' key on your keyboard and paste it into your email)
Excluded from this offer:
Prices that are conditional to an additional purchase
Prices that are part of any other discount or special offer deal
Prices that are part of a customer loyalty, members' or loyalty reward scheme
Bookings that have already been cancelled
Pricing variances that result from rounding prices up or down to the nearest whole pound
Pricing variances that result from airport access fees
Please Note:
We only consider the price of the product, not any additional fees or charges e.g. cancellation fee and/or credit card surcharges.
Essential Travel Ltd. Copyright © | 100001