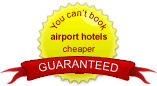 The Ramada Hemel Hempstead Hotel
Formerly the Ramada Hemel Hempstead, the much-loved hotel has been renamed The Aubrey Park hotel. The beautiful hotel still sits amongst nine acres of green countryside just ten minutes from Luton airport.
Visit our Aubrey Park Hotel page to find out more and book your stay.
Rest assured, there's been no change in the relaxed, comfortable environment and the food is just as delicious!
Don't forget the same great Luton airport hotels with parking packages are also still available.
Great value rooms
Rooms with Parking
Quick Transfers
Family rooms
Instant booking Confirmation
Includes:
The hotel is only 10 miles from Luton airport.
The Arts restaurant offers superb views of the surrounding woodland.
You won't find the hotel cheaper anywhere else.
Port Hotels with Parking: