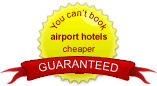 Heathrow terminal 2 airport hotels
Whether you have an early morning flight or late arrival, make sure you book yourself into one of our Heathrow terminal 2 airport hotels.
You can enjoy luxury travel without the price tag at a simple click of a button. Compare prices and get an online quote today.
Great value rooms
Rooms with Parking
Quick Transfers
Family rooms
Instant booking Confirmation
Includes:
Choose from Over 20 Heathrow airport hotels
Book early and secure a luxury hotel room plus parking at a Discounted Rate
We GUARANTEE you won't find the same airport hotel for less anywhere else!
Port Hotels with Parking:
Back to top
Advantages Of Booking An Airport Hotel With Us
Whether travelling on business or leisure, make sure you start your trip on a high note by pre-booking a room at one of our nearby Heathrow Airport Hotels. Not only are you guaranteed maximum travel convenience, but we'll also promise:
Safe and secure online booking: With our state-of-the-art booking system you can book with confidence knowing that your personal and banking details are kept safe and secure
Advanced booking discounts: Enjoy super savings when you pre-book any one of our airport hotels in advance
Range of hotels plus prices to match: From luxury five star boutique hotels to budget accommodation, we offer a range of airport hotels, one of which is sure to satisfy your travel needs
Quick and easy travel: Because our hotels are located near the airport, you're guaranteed swift, uncomplicated travel direct to the terminal building
Free Transfers: Travelling with heavy luggage is made easy with free transfers direct to and from the terminal building
Pick A Hotel That Best Accommodates You
In order to meet the needs of all our customers, we offer our business and leisure customers alike a wide range of airport hotel packages to choose from. These include:
Airport hotel with parking: Great for families travelling to the airport in their own vehicle and require a safe and secure parking whist on their travels.
Airport hotel day room only: Perfect for customers who are travelling at an inconvenient time and/or are awaiting a connecting flight
Airport hotel only: Ideal for business travellers on-the-go
How To Get A Quote And Book Online?
Our user-friendly booking system allows for quick, safe and secure booking. To reserve your hotel accommodation, simply follow the three easy steps below:
Step 1: Enter your travel details on the quote form
Step 2: Choose from one of our Heathrow Airport Hotels
Step 3: Enter your payment details
Tip for Heathrow Terminal 2 Hotels: To find out more about any one of our Heathrow Terminal 2 Hotels, simply click the details tab in your quote results. Here you'll find directions to the hotel, information on the hotel facilities as well as full details outlining the arrival and return procedure.
How Can We Help You?
Our qualified travel consultants are committed to ensuring your travels run smoothly from start to finish. For any queries, comments or concerns feel free to contact our friendly agents on 0871 360 2720. Our office opening hours are from 09:00 to 17:30, Monday to Friday.